We truly believe assistance is a fundamental part in the purchase of an item, whatever it may be the value. This is the idea that underlies our activity in the in the complex world of the carpets and that it makes us live with enthusiasm the daily adventure of our job, always to the search of ideas, methods and best carpets to propose you. We don't consider us any dealers but rather "artisans with the passion of rug".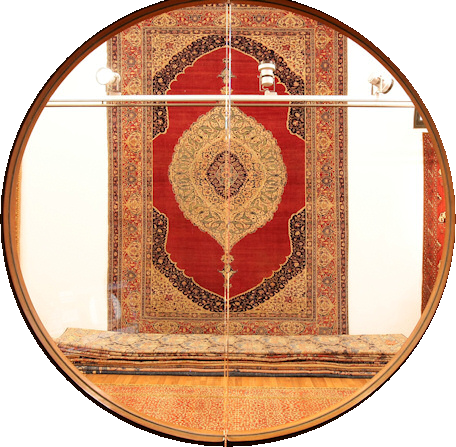 Showroom view from doorway

In the last 34 years of work, we put together everything that regarding rugs: from the meticulous attention to the rugs on sale: from modern rugss to antique collection pieces; from specialized cleaning to preservative or aesthetic restoration of rugs and ancient tapestries. Considering also the legal expertise.
In In the sector of maintenance of furnishings we deal with all of this that our clients, dealers or artisans, for the various reasons, are not able to do, more precisely: washing of chairs, upholsteries, sofa with removable cover or fixed, practically of every furniture or wall that had stuffings, the washing of moquette and draperies of every kind, inclusive dismantlement and montage. Obviously not as a normal enterprise of cleanings, on the contrary in deepened very more way and guaranteed in the method and in the results.
I think that a rug of value cannot be purchased without having completes trust in the company that proposes it, therefore my suggestion is this: READ THE FEEDBACKS of our clients and you will see. TRUST IN US and devoted us some of your time in this site: look at the rugs and the fabulous tapestries that we propose you and ask us all the information you want . We are to your disposal.
WHO HAS GIVEN US TRUST, TODAY IS HAPPY TO DID IT
Giovanni Bersanetti