Carpet selling & maintenance structure
The carpet selling & maintenance structure is divided into three areas: A sales one, a carpet cleaning one and a restoration one.
An antique and new carpets and tapestries show room
We have a large, well organized showroom for the sale of carpets and it is divided into four rooms: one for Kilim, Aubusson tapestries and general flat fabrics; one for modern and designer carpets; the third for classical rugs, carpets, leather carpets, Berber carpets; the fourth room, where temperature and humidity are constantly kept under control, is home to our beautiful antique carpets. All rooms are equipped with pheromone-loaded moth-repelling lamps.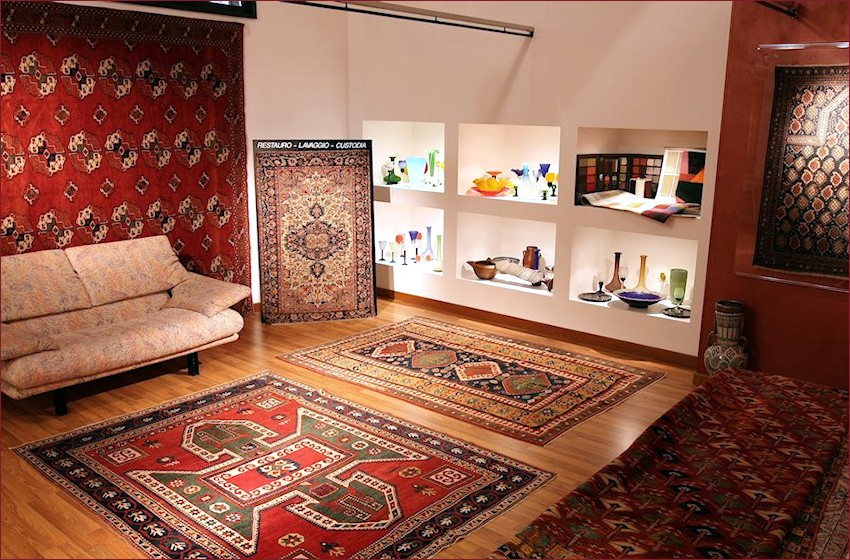 A corner of our showroom in Padua
The carpet selling & maintenance structure
Carpets and tapestries restoration laboratory
The carpets and tapestries' restoration laboratory, directed by my daughter Raffaella Bersanetti, is made up by our restorers who, for many years, have been going about their business with considerable experience, professionalism and the passion and motivation necessary to exercise this activity.
The carpet selling & maintenance structure
Carpet and tapestries washing laboratory
The carpet washing laboratory is equipped with a tailor-made, state-of-the-art system, the result of 35 years' experience in the sector. All this provides our customers with a set of services and expertise that you are really pushed to find elsewhere.
The laboratory washing of rugs
To date, we have a database of around 10,000 customers, number which increases every week; our banks and the suppliers who we work with have always been the same for nearly 40 years: everything about Giovanni Bersanetti Rugs speaks volumes about the stability and reliability of the company.
Some pictures of our company